Travel
Tokushima city, Japan, AWA Dance
One of the most famous festival in Japan

Awa Dodori (Awa dance festival) Tokushima Japan
USPA NEWS - One of the most famous and well known festival in Japan, called Awa odori in the city of Tokushima, Japan. It is held during the Obon season in the middle of August (Aug 12-15 in 2013). Tokushima is located at Shikoku. Tokushima used to be called as "Awa"and then Odori means dance.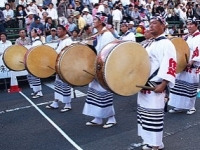 The history of this dance goes back to 400 years old. The dance has music and its lyrics. The lyrics means like "Fools dance and fools watch, if both are fools, you might as well dance". This festival starts at 6pm~10pm on Aug 12~15. Therefore, during this season, all street will be open during the daytime, however, the downtown will be closed during the festival hour. The dance performers were usually from the local. However, since Awa odori becomes one of the famous and popular festival throughout Japan, many other performance from different region participate every year. The visitor is easily counted more than one 100,0000 people during the festival. Tokushima has opened the Awa odori Kaikan which is museum for Awa dance for the visitor who are coming other days.
Liability for this article lies with the author, who also holds the copyright. Editorial content from USPA may be quoted on other websites as long as the quote comprises no more than 5% of the entire text, is marked as such and the source is named (via hyperlink).
| | |
| --- | --- |
| | Daren Frankish |
| | RAHMA-SOPHIA RACHDI |
| | Ruby BIRD |
| | Yasmina BEDDOU |
| | Aurangzeb Akbar |